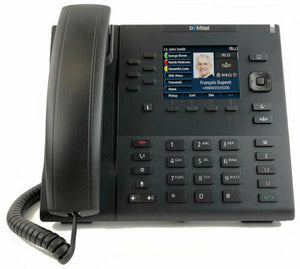 Mitel / Aastra 6867 3.5" QVGA color 80C00002AAA-A SIP Phone
A 9-line SIP phone designed for power users who demand a lot from both their phones and their networks. The Mitel 6867i provides remarkable HD wideband audio and an enhanced speakerphone that utilizes dual microphones and advanced audio processing to achieve richer and clearer handsfree conversations.
Supporting today's high speed networks through dual Gigabit Ethernet ports, the 6867i offers a large color LCD display, 6 programmable soft keys, 4 programmable context sensitive system keys and native DHSG/EHS headset support. When equipped with an optional detachable keyboard, and up to three expansion modules, the 6867i becomes a robust productivity-enhancing desktop communication tool.
With its fully customizable hard key layout, XML capabilities and an environmentally efficient PoE class 2 rating, the 6867i is one of the most advanced SIP desktop phones available on the market today.

Key Features
Remarkable audio
Large color screen display
Flexible headset options
Environmentally friendly
Remarkable audio
All 6800i Series SIP Phones feature Mitel's high definition Hi-Q audio technology to deliver enhanced performance and voice clarity. Integrating HD wideband audio codecs, advanced audio processing and hardware components that support a true wideband frequency range, the 6867i offers a superior voice experience on each audio path - handset, speakerphone or headset port - making conversations crystal clear and more life-like. Even more impressive is the unique design of the 6867i speakerphone that utilizes dual microphones and advanced audio processing to achieve richer and clearer handsfree conversations.
Large color screen display
The Mitel 6867i features a high resolution 3.5" QVGA color backlit LCD display that delivers a rich visual presentation helping maximize productivity and ease of use. The large color display combined with ICON based navigation menus and intuitive User Interface makes the many powerful telephony features of the 6867i instinctively easy to use.
Flexible headset options
The Mitel 6867i features an innovative headset port that uniquely provides dual support for DHSG/EHS and modular 4-pin headset connections. Users with wireless headsets that support DHSG/EHS can now connect directly to the 6867i without the added cost of additional adaptors or cables.
Environmentally friendly
All Mitel 6800i Series SIP phones have been designed to be environmentally friendly. Using dynamic PoE class reporting, the 6867i has a PoE Class 2 rating that automatically switches classes when an expansion module is connected enabling the phone and network switches to efficiently manage its power consumption. The Mitel 6867i also supports an optional Efficiency Level "V" compliant power adaptor if required. With smaller packaging that includes 100% recycled and biodegradable material, the Mitel 6800i Series is one of the most environmentally friendly family of SIP phones on the market.