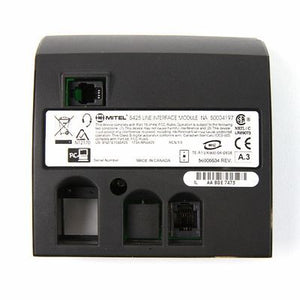 Mitel 5425 Line Interface Module (50004197)
Mitel 5425 Line Interface Module
The Mitel Line Interface Module is a discreet component that plugs into the back of your Mitel 5224 IP Phone (Dual Mode) or Mitel 5235 IP Phone. This Mitel Interface allows for local access, emergency dialing and guaranteed survivability. The line interface module is primarily a low-cost disaster recovery solution for any kind of converged, mission-critical environments of any kind.
Features
Provides a separate connection to an analog line, such as those with an included DSL service.
Voice communication automatically and transparently defaults to a PSTN.
PSTN analog line defaults if IP service is disrupted, allowing users to continue to make and receive calls.
Enables remote users to have localized calling and emergency service.
Compatibility
5220 Dual Mode
5224 and 5235 IP Phones
5330 and 5340 IP Phones