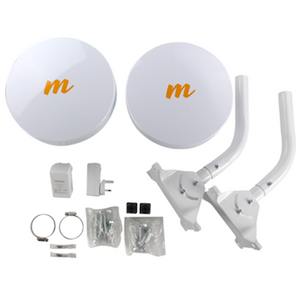 Mimosa Networks B5-Lite 5GHz 750+ Mbps capable PtP Link
Fast. Affordable. Easy. Switch to the award-winning Mimosa B5-Lite, the easiest, fastest and most affordable wireless bridge kit on the market

Superior Performance 750+ Mbps

Rugged and Affordable Extreme outdoor conditions have nothing on the B5-Lite

Monitor with Ease Assessing link health and identifying potential problems is easy

Just Mount and Go Connect quickly with our complete kit including super compact integrated antennas and wall mounts.
This starter kit features two B5 -Lite radios to create a complete backhaul link. All you need is a Cat5 cable!

Product Features:
• Lightweight
• Low power
• Low latency and high performance
• Advanced RF efficiencies
• Weatherproof IP67 rating
• Outdoor UV stabilized plastic
• Gigabit Ethernet 10/100/1000-BASE-T
• Painted steel bracket plate
• Wind durability up to 200 km/h (125 mph)
• Smart spectrum management
• Active scan monitors/logs ongoing RF interference across channels (no service impact)
• Dynamic auto-optimization of channel and bandwidth use

Product Specifications:
• Max throughput: 750+ Mbps
• Low latency: Configurable 5ms+
• Wireless protocols: Auto-TDD/TDMA
• MIMO & Modulation: 2x2:2 MIMO OFDM up to 256QAM
• Bandwidth: 20/40/80MHz channels tunable to 5MHz increments
• Frequency range: 5150-5850MHz (country restrictions apply) (*new* US/FCC 5600-5650 support)
• Max output power: 23dBm
• Gain: 20dBi
• Beamwidth: 3dB, 14deg
• Max power consumption: 15W
• Power method: 48-56V Ethernet, 802.3at PoE
• Operating Temperature: -40deg C to +55deg C (-40deg F to 131deg F)
• Security: WPA2 + Mimosa 802.1x client
• QoS: Supports 4 pre-configured QoS levels
• Approvals: FCC part 15.407, IC RS10, CE, ETSI 301 893/302 502
• RoHS compliance: Yes
• Safety: UL/EC/EN/ 60950-1 + CSA-22.2