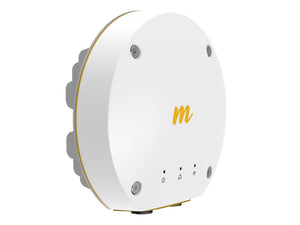 Mimosa B11GHz 27 dBm up to 1.5Gbps PTP Licensed Backhaul End with GPS Sync, Connectorized, 4x4 MIMO OFDM
Mimosa B11 - Redefining Licensed Backhaul
The Mimosa B11 backhaul radio is designed for the modern Internet era, adapting instantly to variable upstream and downstream bandwidth requirements. The B11 is fiber-ready - simply add your preferred SFP module and you'll be lit up with gigabit fiber speeds. If you are not quite ready for fiber, the B11 also comes with a standard Gigabit Power-over-Ethernet connection.
We've simplified the licensing process and offer instant visibility into the FCC ULS database to quickly assess surrounding links, providing an early indication of coordination viability. A single B11 can support an entire 10.7 - 11.7 GHz band, maximizing your ability to find a clear, licensable channel.
Superior Performance
Our speeds will blow you away. With up to 1.5 Gbps aggregate speed and under 1 ms latency, high performance has never been this affordable. The B11 has the lowest cost per Mpbs in the industry with link distances over 100km.
Ultra Rugged
Carrier grade IP67 design allows the B11 to withstand the harshest of environmental conditions.
Night and Day
The B11 dynamically adapts to bandwidth demand using Auto-TDMA technology, maximizing spectrum utilization throughout the day.
Monitor with Ease
Assessing link health and identifying potential problems has never been easier. Links are continuously monitored by our Mimosa Cloud service with rich data collection and analysis.
Right on Target
We've taken the guesswork out of antenna aiming by adding 2.4 GHz Wi-Fi right in the radio, turning any smartphone into the most sophisticated aiming tool on the planet! You can instantaneously view radio details and target signal levels with the most precise aiming technology in the industry.