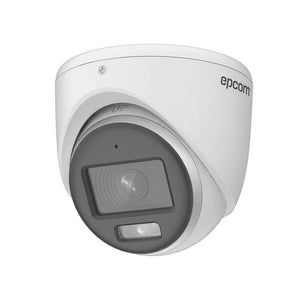 Camera 5MP Turret TURBOHD 3K E3K-TURBO-C / COAXITRON AUDIO / 2.8 mm Lens / IP67
Main Features:

* Maximum resolution: 3K (5 Megapixel) (2960 x 1665)
* Minimum illumination: 0.001 Lux @ (F1.0, AGC ON)
* Fixed lens: 2.8 mm (aperture angle 102°)
* 20 Meters of white light (helps illuminate the site to keep the image always in color).
* Supports 4 Technologies, selectable in cable harness (HD-TVI, HD-CVI, AHD, CVBS Analog 1200TVL´s)
* dWDR
* Built-in microphone.

Highlights:

ColorVu cameras have an F stop setting to 1.0, which allows greater capture and use of light, its white light allows to illuminate very dark environments to provide a 24/7 color image, that is why ColorVu is among the most selected by customers in environments such as bars, shops, home, office, hospitals, perimeter.

Physical and Electrical Characteristics:

* Operating temperature: - 40°C ~ 60°C.
* Power supply: 12Vdc / 2.5 Watts.
* Protection: Indoor / Outdoor IP67.
* Made of metal.
* Dimensions: 85.1 x 77.62 mm.
* Weight: 328 grams.
* 5-year warranty.
* Use TURBOHD recorders that support H.265 + for PIR option compatibility to avoid false alarms.
* It is recommended to use the PIR sensor for controlled environments as it can generate false alarms in adverse conditions, it is recommended to use the PIR for indoor use.