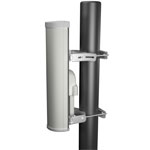 Cambium Networks C050900D021A ePMP1000/2000 5GHz Sector Antenna 90-120 Degrees
ePMP[tm] Sector Antenna
Cambium Networks has deployed more than five million radios around the world achieving unparalleled degrees of scalability. Based on this vast experience, Cambium Networks has designed an antenna solution that enables network operators to increase the spectral efficiency and scale of their ePMP[tm] point-to-multipoint (PMP) distribution access networks. Wireless Service Providers deploying networks in 5 GHz spectrum will find this sector antenna for 90° and 120° applications especially well-suited for high-density networks requiring frequency re-use and wide-band spectrum coverage.
Key Deployment Advantages:
- Frequency Reuse: Designed for ABAB channel re-use (two channels covering four sectors), the sector antenna has 35 Db front to back ratio including a wide aperture in the rear-facing direction.
- Channel Flexibility: Consistent gain from 4.9 to 6.0 GHz allows the operator to select a channel anywhere in the band and achieve the expected performance.
- Consistent Coverage: Excellent null fill capabilities of the antenna allow for broad geographical coverage within a sector even near the base of the tower and the edges of the sector.
- Designed for the Installer: Small compact design, integrated ePMP radio mount and GPS antenna integration.
- Predictable Performance: The sector antenna is integrated into Cambium Networks LINKPlanner. The 3D model shows coverage at all elevations and across the azimuth.
Key Specifications:
- 18 dBi gain
- 4.9 to 5.97 GHz spectrum
- 35 dB front to back ratio
- IP 65 ruggedization