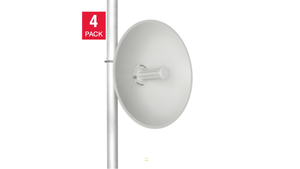 4PK C050910M101A ePMP 5 GHz Force 300-25 High Gain Radio (ROW)
Force 300-25
Wireless service providers and enterprises around the globe are challenged to deliver reliable connectivity in overcrowded RF environment. As spectrum increasingly becomes a scarce commodity, finding the right broadband connectivity solution is vital for all low and high density types of deployments.
Cambium Networks resolves this challenge with a breakthrough technology solution that delivers superior performance, resiliency and reach in the most congested environments. Combining the latest 802.11ac Wave 2 chipset and the field proven TDD MAC of ePMP, the Force 300-25 offers a compelling yet affordable point to point product and a future high gain subscriber module for the ePMP3000 Access Point.
Force 300-25 continues the tradition of previous products with an integrated 25dBi dish with a narrow beamwidth and reliable mechanics. Supporting peak throughput greater than 500Mbps, the Force300-25 also supports an always on spectrum analyzer and local Wi-Fi management to take advantage of mobile installation applications.
FEATURES:
* Cambium Networks' ePMP Force 300-25 is designed to operate in high interference environments and provides superior throughput of over 500 Mbps of real user data.
* The ePMP Force 300-25 supports channel size configuration from 20MHz up to 80MHz and modulates up to 256 QAM.
* The Force 300-25 supports a local Wi-Fi connection to allow easy installation, configuration, and monitoring from any Wi-Fi enabled device.
* The ePMP Force 300-25 supports constant monitoring of the radio spectrum and allows for live action without bringing down the radio.
* Configurable modes of operation ensure robust adaptivity to both symmetrical and asymmetrical traffic while providing high performance and round-trip latency as low as 3-5 ms.
* QoS management offers an outstanding quality for triple play services - VoIP, video, and data - and provides three levels of traffic priority.